20% OFF SINGLE TREATMENT, 30% OFF PACKAGE PRICE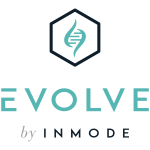 How Does Evolve Work?
Body contouring has quickly risen to fame in the world of aesthetics in response to countless people constantly searching for ways to achieve a slim and well-contoured silhouette without going under the knife. Thanks to Evolve's unique three-proprietary technology (Tite, Trim, and Tone), now you can have all that and more. This breakthrough technology has reached perfection. It has all the advantages that neither other non-invasive rivals nor surgical procedures have. Unlike other non-invasive older technologies that are still being currently used, Evolve DOES work. Furthermore, with Evolve you can achieve results comparable to surgery but with no scars and for less cost.
Evolve's non-invasive, hands-free design and programmable technology make it an excellent treatment option during COVID-19's physical distancing restrictions, as it lowers the required patient-physician face-to-face contact during the procedure.
Evolve by InMode is the world's first and only all-in-one handsfree treatment method that can deliver multiple non-invasive body sculpting solutions in one technology. Specialists can now program aesthetic treatments personalized explicitly for a patient's particular body transformation needs. 
Evolve delivers three-dimensional thermal body and skin treatment that remodels and tightens skin, dissolves adipose tissue(melts fat), and tones muscles. With one platform, your physician can provide a variety of customized aesthetic treatments specifically tailored to your demands for total body transformations.
Evolve defies the saying "too good to be true" because it is too GOOD and it is TRUE.
Evolve Tite 
Evolve Tite expertly tightens, lifts, and improves loose and sagging skin through radiofrequency technology. The 6 hands-free applicators can be applied to any area of the body (abdomen, arms, legs, buttocks, etc.) using a velcro belt for a customized skin tightening plan depending on the individual patient's needs. You will notice the results After 3 to 6 30-60 minute treatments.
Evolve Trim 
Evolve Trim delivers optimized thermal energy to the deepest layers of subcutaneous fat to enhance cellulite and overall body contour.
Evolve Tone 
This element of Evolve is driven by electrical muscle stimulation (EMS) that induces muscle contractions for a more toned and svelte appearance. You can see results after 3-6 treatments. When you do sit-ups at the gym you are basically contracting the abdominal muscles to tone them and get 6 packs. Evolve Tone will do that for you while you are lying down on the treatment table.
Combining Evolve With Other Modalities for Better Results 
Evolve can be combined with other aesthetic treatment modalities that we offer at Burlington Medical Aesthetics. For example, combining Evolve and Morpheus8 for abdomen stretch marks will yield more skin tightening and hence better results and patient satisfaction.Further treatment with radiesse (Evolve, Morphues8, and then Radisse) will be the ultimate aesthetic treatment for select patients.Combining radiofrequency and Radiesse will result in maximal biostimulation and the formation of new collagen that is crucial for skin tightness and stretch marks.
Who Can Benefit From Evolve? 
If you've already achieved your ideal weight but still have excess fat or loose skin that you would love to see toned, trimmed, and tightened, Evolve is the perfect solution for you.
It is ideal for those who have undergone healthy weight loss solutions like proper diet and rigorous exercises. Can't get to the Gym? No problem. InMode and Burlington Medical Aesthetics can help.
Evolve concept is multimodal which means you can do Evolve Trim, Tite and/or Trim in any combination. For example, if someone is going to the gym and dieting and they still have some extra stubborn fat, they can do Trim then Tite then Tone. If you lost weight and reached your target but the problem is redundant skin, then Evolve tone is what you need.
After getting rid of extra fat and loose skin, Evolve Tone will give the final touches by toning the muscles the same way sit-ups work.
How Does Evolve Compare to CoolSculpting?
| CoolSculpting | Evolve |
| --- | --- |
| 22% fat destruction | 30% fat destruction |
| No skin tightening | RF skin tightening |
| No muscle building | Enhanced Muscle Stimulation |
| No Cellulite treatment | Improves up to one grade of cellulite |
Evolve Treatment Areas 
Evolve is a versatile, non-invasive, and non-surgical aesthetic treatment that can be used in the following areas of the body :
Abdomen

Arms

buttocks

Thighs

Knees

Others   
Evolve Before & After Photos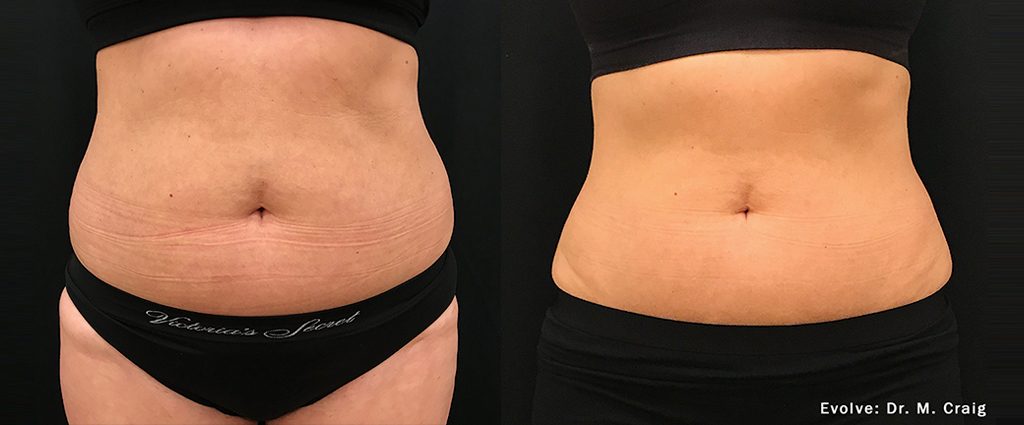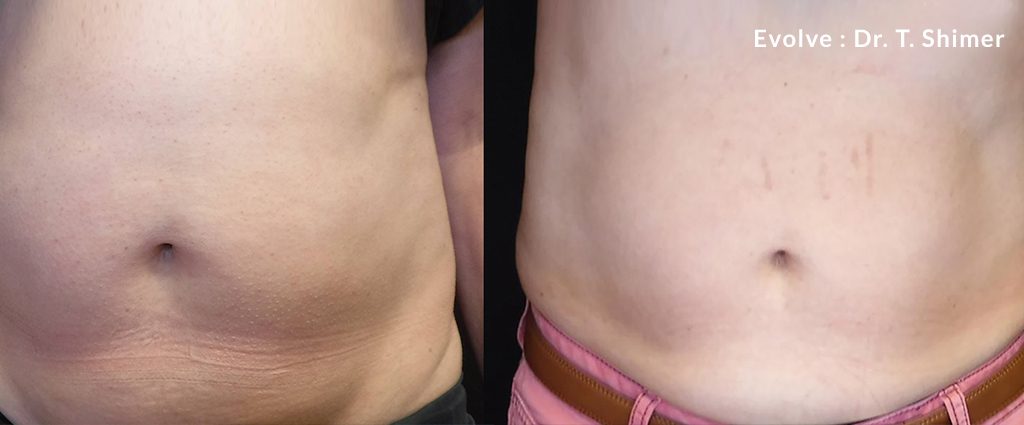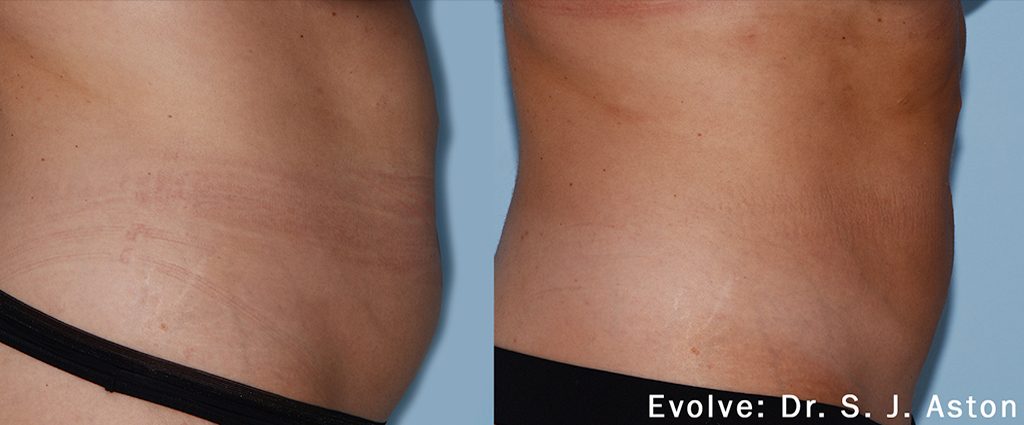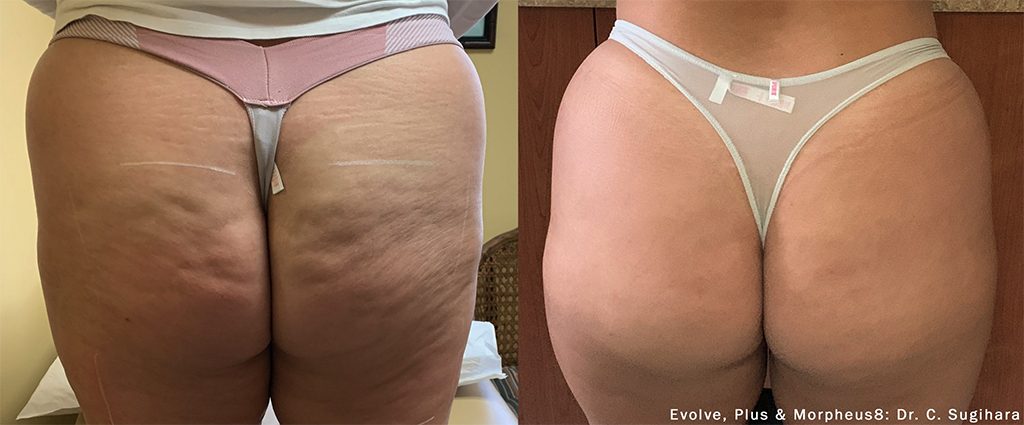 Why Choose Burlington Medical Aesthetics? 
At Burlington Medical Aesthetics, we value our patient's safety as much as we prioritize their aesthetic goals. We have state-of-the-art facilities, unparalleled dedication to delivering the highest standard of care, and a highly qualified team that delivers effective solutions sans discomfort or extensive downtime. With Evolve's cutting-edge technology at the forefront of our clinic, a sexy and youthful figure is now within your reach. 
Burlington Medical Aesthetics only uses the most advanced, state-of-the-art technology that is not readily available in most other clinics. We are the first to bring Evolve and Evoke by InMode to Burlington.
Contact Us Today 
Learn more about Evolve's revolutionary body contouring benefits. Book online to start your journey to a beautifully toned physique today!