How Can Hyperhidrosis Treatment Help With Your Excessive Sweating?
May 22, 2022
Excessive sweating might make you feel uncomfortable and even embarrassed in some cases– but you should know that you're not the only one experiencing this. Hundreds of thousands of others struggle with the same condition as you. As a result of excessive sweating, you're likely to sweat through your clothing, dresses, or even feel overheated.
Despite the fact that many individuals who suffer from hyperhidrosis dread talking to a healthcare professional about their issue, hyperhidrosis may be effectively controlled with the support of our team.
Fortunately, there are treatments that may successfully alleviate these symptoms as well as prevent this from occurring in the first place. Treatments for hyperhidrosis are becoming widely more popular among men and women who suffer from excessive sweating.
We at Burlington Medical Aesthetics are pleased to be able to provide this service to our patients since we realize how irritating it can be to have to cope with these symptoms.
Let's take a deeper look at how Hyperhidrosis treatments can help you long-term.
What Is Hyperhidrosis?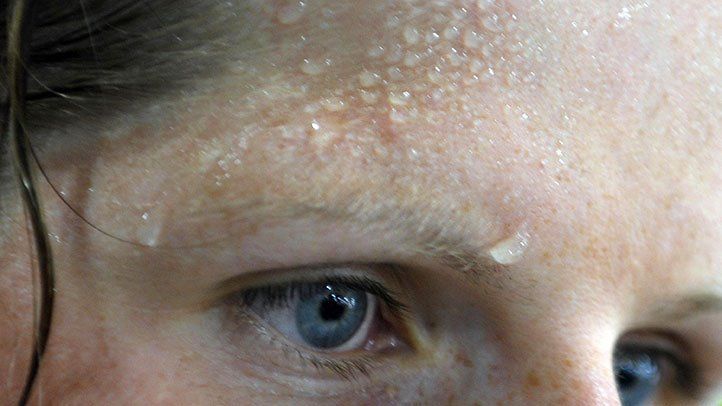 Let's start off with the basics, what is this condition? Hyperhidrosis is a condition in which the sweat glands of the body overproduce perspiration. This excessive sweating leads you to perspire profusely at times and places when normal individuals would not.
A physical ailment or an emotional state might cause excessive perspiration at times. Controlling symptoms may be a continual battle for many individuals suffering with hyperhidrosis; however, there are now therapies available that can properly and safely treat the condition so you don't need to worry about it anymore.
How To Determine If You Have Hyperhidrosis?
Excessive perspiration may be both unpleasant and emotional for the person experiencing it. As a result, many people avoid bringing up the matter with their healthcare professional for fear of being judged for it. However, many people don't realize that discussing with a healthcare practitioner may actually help alleviate their symptoms through specialized treatments.
Your doctor at our Burlington clinic will go over your medical history with you and carefully examine you for any symptoms you may be experiencing. From there, we will work to build a treatment plan that is effective and tailored to your specific requirements and objectives.
Hyperhidrosis Treatment Types At Burlington Medical Aesthetics
There are several treatment options available on the market for this issue, including Botox injections and Morpheus8® treatments, among others. Let's go through the two most popular and common types of treatments that are available at our clinic and how they may be beneficial to you:
Botox Treatments
Botox therapy is a procedure that temporarily paralyzes the muscles of the face and body.
When it comes to hyperhidrosis, a targeted injection of a neuromodulator such as Botox is a popular remedy. It works by temporarily "shutting off" the sweat glands in the treated region, providing you with a much-needed break from excessive sweating.
This injection, which has been authorized by Health Canada, is straightforward and quick, and you will only experience minimal pain as a result of it. Consider it a pinch that will spare you from months of sweat-fueled anguish.
As an added bonus, you'll see results right away. If you get Botox treatments, you may need to have maintenance treatments every 6 months to keep the benefits going as long as possible. Once you have gotten a few repeated treatments, your body will adapt to the injections and no longer produce excessive sweating.
Morpheus8 Treatments
Morpheus8 is a very effective therapy for excessive sweating. Using this cosmetic service you may successfully decrease excessive perspiration from the palms of your hands, soles of your feet, and the area around your mouth.
Morpheus8 desensitizes the sweat glands and eliminates hyperhidrosis by the use of a combination of microneedling and radiofrequency heat delivered in a targeted manner. Within two to three weeks, you should notice a complete reduction in your perspiration. However, you will not notice the full advantages of your therapy until around three months after it has been completed. Thankfully, these are long-lasting results, and for many individuals, this may be a life-changing treatment.
The Advantages Of This Treatment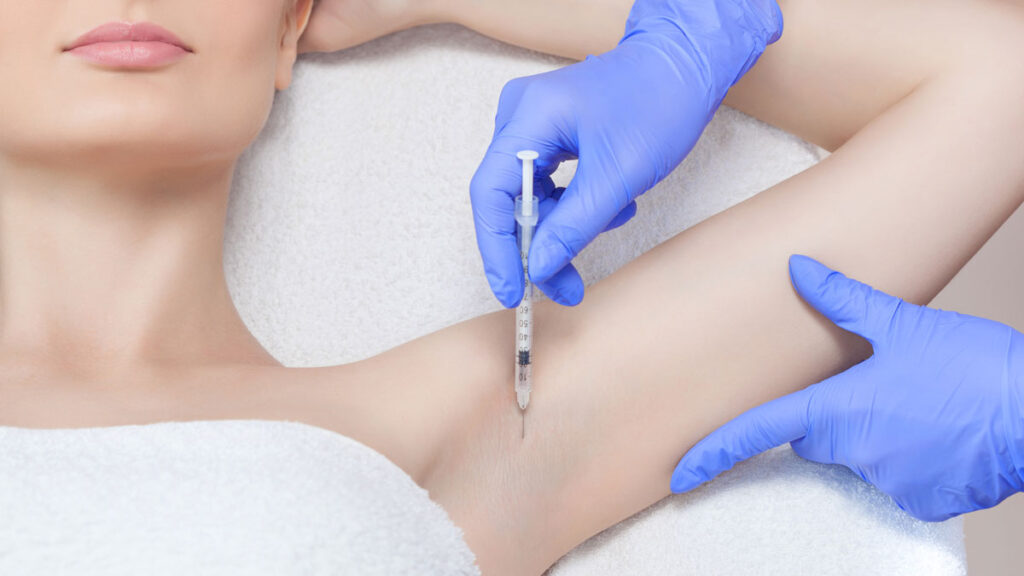 Getting Hyperhidrosis treatments in Burlington has a number of benefits over other options. Some of the advantages are as follows:
Long-Lasting Results
The benefits of this therapy might remain for up to nine months after the Botox injections are completed and up to one year or more for Morpheus8 treatments.
Little To No Downtime
These treatment options are minimally-invasive which means there is very little downtime required after the procedure.
A Significant Decrease In Sweating
It is very helpful for anyone who experiences sweating hands, underarms, feet, and scalps on a daily basis.
Which Areas Of The Body Can Be Treated?
Face
This treatment can reduce the appearance of face perspiration such as on your chin and forehead as well as improve the overall look of your skin.
Hands
Some people struggle from excessive sweating on the palms of their hands. This treatment can help treat those sweat glands effectively so you no longer need to worry about sweaty hand-shakes.
Armpits
For those who struggle with excessive sweating in their armpit region, this treatment can help you target those glands so you can wear your tight clothing without being concerned about sweating through them.
Legs
This treatment can help anyone who finds themselves sweating on different locations on their legs.
Groin
You can also treat the groin region if this is a problem area for you.
Are You Ready To Say Goodbye To Excessive Sweating?
Getting rid of excessive sweating with these treatments is a long-term solution if you are weary of dealing with it on a daily basis. While there are a variety of therapies available that provide immediate relief, the Botox injections and Morpheus8 treatments both provide long-term effects. Contact Burlington Medical Aesthetics if you would like to learn more about these treatments and which one would be the best fit for you.
You may also contact our clinic directly at 289-337-2761 to make an appointment. We look forward to helping you say goodbye to excessive sweating and hello to a sweat-free life!