How to Get Rid of a Double Chin
March 5, 2021
Two is better than one. 
That is completely true when it comes to double chocolate fudge sundaes, double dates, and double rainbows, but when it comes to double chins, it's a completely different story. 
A double chin, also typically referred to as submental fat, is a common skin condition that happens when a thick layer of fat forms below your chin.ISkin sagginess and redundancy with aging or after weight loss also cause double chin. 
Before you give up on restoring your slender neck and defined chin, you should hear us out, because there is hope to turn your double chin into a single one again. Read on to discover the most effective methods in getting rid of a double chin. 
What Causes a Double Chin?
Everyone is beautiful in their own way, but if you want to get rid of that double chin, we totally get it. 
A double chin is often caused by weight gain, hereditary factors, aging, or weight loss. 
Weight gain is a pretty obvious cause, as it is associated with the accumulation of excess fat. If you put on some pounds around the waist, the odds are that it will show on your chin and neck area as well. 
With regard to hereditary factors, all you have to do is take a look at your family. If your parents, grandparents, and siblings have double chins, you can blame it on your genes. 
Aging is another element to be taken into consideration when talking about double chins. As you age, your body's natural collagen production tends to slow down. Unless supplemented, your double chin may worsen over time. 
Finally, double chins can also be a byproduct of bad posture. If you slouch often in front of your laptop screen or to text on your phone, it wouldn't be a surprise if you soon adapted this posture until it becomes a habit that gradually grows a full-fledged double chin.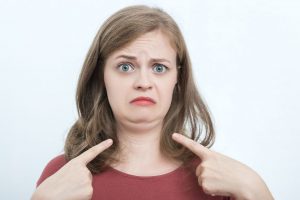 Beauty Solutions to Keep Your Chin Up
When your double chin takes a jab at your self-confidence, you may feel like looking down, but we advise you refrain from doing that, as it could, in fact, worsen the state of your double chin. Instead, read through these effective beauty solutions that will eliminate your double chin. Then, you can proudly keep your chin up at all times.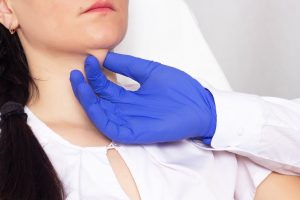 Non-Invasive Cosmetic Solutions
You can ask any skincare specialist how to get rid of a double chin, and they will all give you the same answers: Radiesse® and Morpheus8®.
How to Get Rid of a Double Chin with Radiesse®
Radiesse® is an injectable filler that works by promoting the skin's natural collagen-producing properties with biostimulation technology. As a result, you will experience firmer, younger, and more glowing skin. Depending on your specific needs, this treatment can last anywhere between 15 to 30 minutes. Radiesse® can redefine your neck and jawline, restoring that beautiful sharp chin.
How To Get Rid of a Double Chin with Morpheus8®
Morpheus8® is a hybrid combination of radiofrequency technology, needling, and fractional treatment. The uniqueness of Morpheus8® lies in its ability to penetrate the skin at subdermal levels. Having access to the deeper layers of the skin boosts the age-defying process while sculpting and contouring your skin to perfection.
How to Get Rid of a Double Chin with Radiesse® and Morpheus8®
Both Radiesse® and Morpheus8® are highly effective, but if you really want to eliminate your double chin and make sure it never returns, you can opt for both of these cosmetic treatments. When used together, the results are phenomenal. 
Make Your Double Chin Single Again
If you want to know how to get rid of a double chin quickly and effectively, you can rely on the expertise of Burlington Medical Aesthetics to help you sculpt and contour it to perfection. Reach out to our office to book your appointment to a beautifully defined chin today!