How to Treat Sagging Skin After Weight Loss
August 4, 2021
When it comes to the number that appears on the weighing scale, it isn't about whether it's too high or too low. Rather, it's about being at a certain weight that's healthy for your body. Being too heavy or too light can lead to a health problem, and if that's the case, it's important to get your fitness on! 
We all have our own personal fitness goals and if you've successfully shed your excess pounds, we congratulate you! The next step in your fitness journey involves addressing the sagging skin after weight loss. Let's dive right into the best non-invasive, skin-tightening procedures that will contour your body to perfection!
How to Treat Sagging Skin After Weight Loss: Evolve by InMode     
Evolve is a revolutionary breakthrough that firms lax skin by means of an innovative three-proprietary technology: Tite, Trim, and Tone. 
Driven by three-dimensional thermal energy, this body contouring treatment remodels and tightens the skin while dissolving adipose tissue and toning the muscles. Evolve provides a total body transformation that you'll have to see to believe! 
Without causing any pain, discomfort, prolonged downtime, or scarring, this treatment will make you see your body evolve until your aesthetic vision comes to life.  
Evolve Tite 
With Evolve Tite, you can achieve a sleek and contoured silhouette without having to go under the knife. This cutting-edge cosmetic technology utilizes six hands-free applicators that can target the loose and sagging skin of the abdomen, arms, legs, and buttocks. Results will be visible after three sessions.   
Evolve Trim  
Evolve Trim emits thermal energy to the deepest layers of subcutaneous fat in order to reduce cellulite and enhance the overall body contours.  
Evolve Tone 
Evolve Tone is driven by electrical muscle stimulation or EMS, which induces muscle contractions. When your muscles contract repeatedly, it mimics the motions of a workout for a more toned and svelte appearance. Doing sit-ups at the gym can ultimately give you a strong six-pack of abs, and you can supplement this slow burn with the power of Evolve Tone! 
Visible results will be experienced after three to six treatments.  
Evolve Treatment Areas  
Evolve can treat sagging skin after weight loss in the following areas:
Abdomen

Arms

Buttocks

Thighs

Knees

Others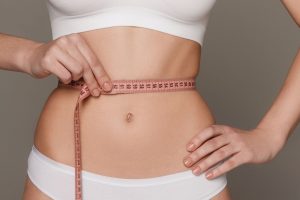 Make Your Body Evolve at Burlington Medical Aesthetics 
Having a beautiful and healthy contoured body is now within reach thanks to the best practices at Burlington Medical Aesthetics. With our advanced facilities, team of professionals, and high standard of care, you'll feel right at home. 
You can trust our highly qualified team of skincare experts to treat sagging skin after weight loss and give you unparalleled results. You've worked hard to reach your ideal weight; now, you can let Burlington Medical Aesthetics take the reins to tone and contour your figure to create the finishing touches to your new look. 
Are you interested in Evolve-ing your body into a brand new toned physique? Give us a call today to book an appointment.