The Benefits Of Lumecca Treatment
July 14, 2022
Get ready to learn about Lumecca IPL if you want to significantly enhance the look of your skin with a process that is safe, non-invasive, and efficient!
There are numerous different skin disorders, such as sun spots, spider veins, and melasma, that may hinder you from having ageless and clean skin. Clear Skin with Lumecca is a treatment that, after just a few fast sessions, may significantly address a wide variety of skin imperfections.
Lumecca employs intense pulsed light, also known as IPL, to target and minimize sun damage, freckles, rosacea, and other skin conditions in order to enhance skin tone, as well as to assist you in achieving your own aesthetic objectives and making you feel like the greatest version of yourself.
The Clear Skin with Lumecca therapy is both very effective and authorized by the FDA. Here is a look at the advantages of this treatment, as well as how our team at Burlington Medical Aesthetics can help make your skin as radiant as possible with this treatment.
How Does Lumecca Treatment Work?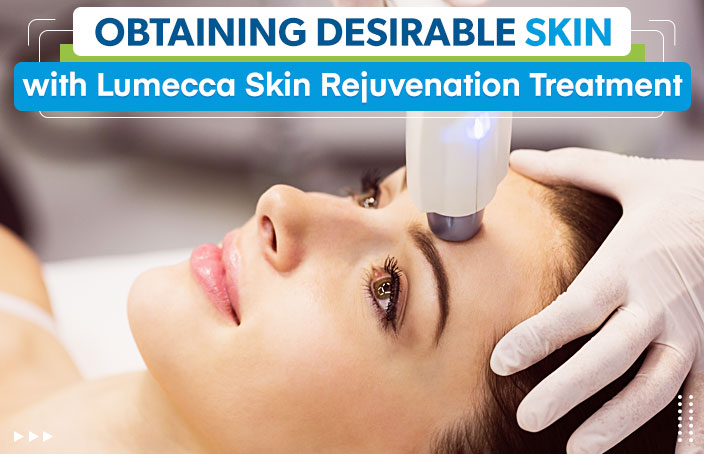 To put it simply, lumecca makes use of light that is transformed into heat energy. This reduces the appearance of pigmentation and gets rid of spider veins while simultaneously boosting collagen and elastin production. The end result is a complexion that is clearer and has a more radiant appearance.
The pigmentation is the target of the light pulse, which is followed by the pigmentation being either absorbed by the skin or flaking off in the days that follow therapy. Additionally, the IPL stimulates the skin to manufacture collagen, which helps to fill up any extra pores in the surrounding area.
What Are The Benefits Of Lumecca Treatment
Clear Skin with Lumecca has the ability to cure and enhance the look of skin on any part of the body, but it is particularly effective on regions of the body that are often exposed to the sun, such as the face, neck, chest, arms, hands, and legs. The following are some of the most common benefits associated with this type of treatment.
Lessen The Appearance Of Sunspots And Freckles
Freckles and sun spots are common skin conditions that may develop in places that get a great deal of sun exposure. Sometimes sun spots and freckles can overlap, which will make some regions of your skin seem darker than others and will throw off the overall tone of your skin. Lumecca has the ability to break up these pigments, especially the brown spots of skin known as melasma, and level out your skin tone, which will result in cleaner and healthy skin.
Reverse The Effects Of Sun Damage On The Skin
Any changes to the skin that are caused by extended exposure to the sun are referred to as photo-damaged skin. These changes might include fine lines, deep wrinkles, roughness, melasma, and discolouration. Clear Skin with Lumecca may successfully cure these changes in your skin with only a few treatments if it exhibits one or more of these indicators of photo damage.
Reduce Spider Veins
Although spider veins are much smaller and less prominent than varicose veins, they may be just as noticeable and unattractive as varicose veins. Spider veins may be caused by a number of factors, including heredity, obesity, trauma, and hormone imbalances. Additionally, spider veins tend to grow more common as people become older. The intense pulsed light that is released by Lumecca has the ability to reduce the appearance of spider veins without causing any damage to the skin that is adjacent.
Reduce Rosacea
Rosacea is an extremely prevalent skin ailment that causes the face to become red and may also result in the appearance of very small blood vessels. Rosacea often manifests itself throughout the middle years of life and is commonly brought on by prolonged exposure to the sun and wind. Lumecca may successfully help decrease the look of rosacea without the adverse effects that are linked with medications or lotions that are widely used to treat this skin disease.
Non-Invasive Skin Rejuvenation
Lumecca is a method of non-surgical cosmetic enhancement that does not need the use of needles or scalpels in any way. Lumecca is a method that utilizes a tiny portable device to heat the surface of the skin in a manner that is risk-free. Patients who have been treated with Lumecca report experiencing a somewhat heated tingling sensation during sessions. They describe the experience of a rubber band being snapped on the skin.
A topical anesthetic or cooling gel will be applied to your skin by one of our Lumecca technicians before your treatment session in order to make you feel more comfortable throughout the service. You may also be provided with protective goggles to wear over your eyes in order to reduce the amount of IPL technology that gets into your eyes.
Get Fast Results
An individual treatment session with Lumecca typically lasts for thirty minutes, while longer sessions may be necessary for treating bigger regions. Lumecca has been found to efficiently eliminate skin abnormalities after a few days of treatment, with improvements being most visible after two weeks have passed.
In addition, there is no downtime associated with the Lumecca IPL treatment, which means that you may immediately return to work or continue your regular activities after your session.
Learn More About The Benefits Of Lumecca Treatment
This treatment has quickly gained popularity among both men and women, and there is an excellent reason for this. This treatment will almost immediately give you a clean and glowing complexion, allowing you to remove undesirable imperfections and blemish-causing pollutants from your skin.
Lumecca Treatment Clear Skin is one of the various skin rejuvenation procedures that are available at our Burlington Medical Aesthetics clinic. Get in touch with us as soon as possible to set up an appointment and find out more about whether or not Clear Skin with Lumecca is the right treatment for you. Call us today at 289-337-2761 or fill out a Contact Form and our team will reach out to you shortly!