The Benefits Of Morpheus8 RF Microneedling
May 26, 2022
Are you looking for a skin rejuvenation treatment that will leave you with amazing results? Look no further. The most up-to-date technology Morpheus8 is the first and only full-body device that uses radiofrequency technology to target the lowest layers of the skin.
The gold standard for skin tightening is radiofrequency technology, and when paired with this resurfacing treatment, it may smooth the skin texture and tighten crepey skin caused by aging, UV damage, and acne scars with very little downtime.
We'll go over all of the advantages of this cutting-edge treatment and how it may improve the health and appearance of your skin in this article…
The Benefits Of Morpheus8 RF Microneedling Treatments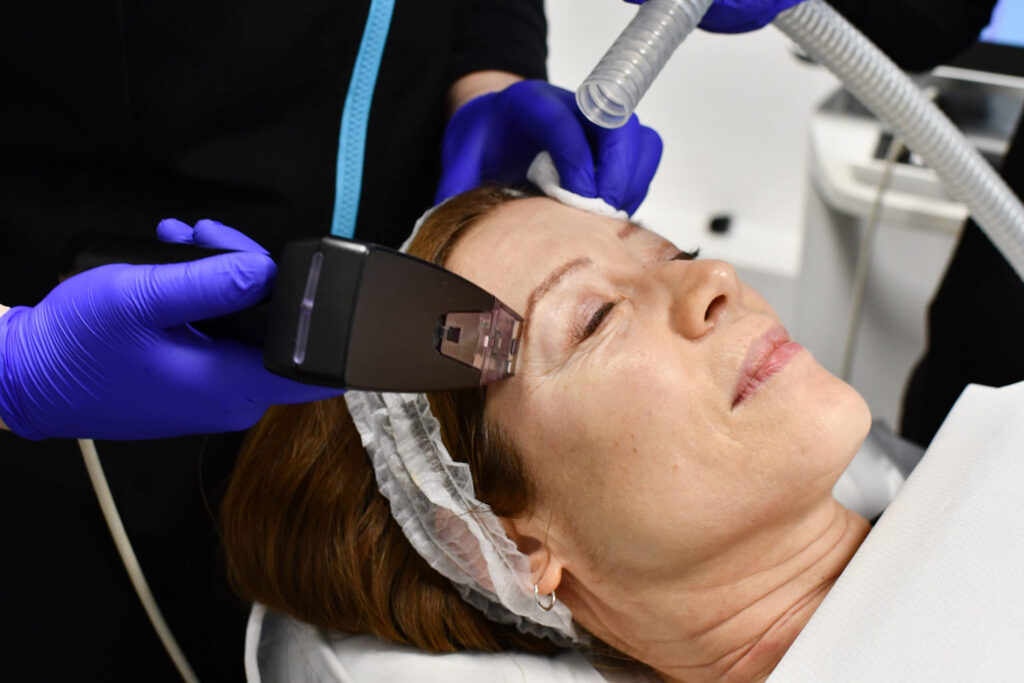 Morpheus8 treatments are known for providing people with the effects of a facelift without having to undergo surgery. It's the ideal therapy for people who want to improve their skin in a progressive, scar-free manner. This sophisticated microneedling therapy rejuvenates aged face features by penetrating deep into the skin and fat. Not only that, but receiving Morpheus8 treatments has a plethora of advantages.
Increased Collagen Production
Morpheus8 is a brand-new approach to boost collagen production in the face. Each year, the dermis layer on the skin generates 1% less collagen. Morpheus8 stimulates the formation of collagen, resulting in skin that is firmer, fuller, and younger-looking. With recurring treatments individuals can prolong your results and experience younger looking skin for longer.
Reduce The Appearance Of Fine Lines And Wrinkles
Morpheus8 may help you look younger around your eyes, lips, and forehead. People often notice substantially thicker, brighter, and smoother skin with less creases and wrinkles after their treatment.
Tighten And Lift Sagging Skin
Morpheus8 can improve drooping around the neck, chin, and jowls in a similar way to a facelift but without having to undergo a surgical procedure. It may also aid in the reduction of fat in the arms, bra line, and other regions.
Reduce The Appearance Of Acne Scars
Morpheus8 has the potential to be a very successful acne therapy. The therapy may shrink or shut down the oil glands under the skin, limiting acne-causing excess oil production. It may also be used to treat acne and acne scars that emerge after your acne has healed, lowering the appearance of acne scars by up to 50% and smoothing out the general texture of your skin.
Reduce Stretch Marks
Stretch marks may appear on the belly, buttocks, breasts, and thighs in both men and women. Morpheus8 may aid in the removal of stretch marks by breaking up scar tissue and fibrous tissue, resulting in tighter, more elastic skin.
Microneedling Vs. Morpheus8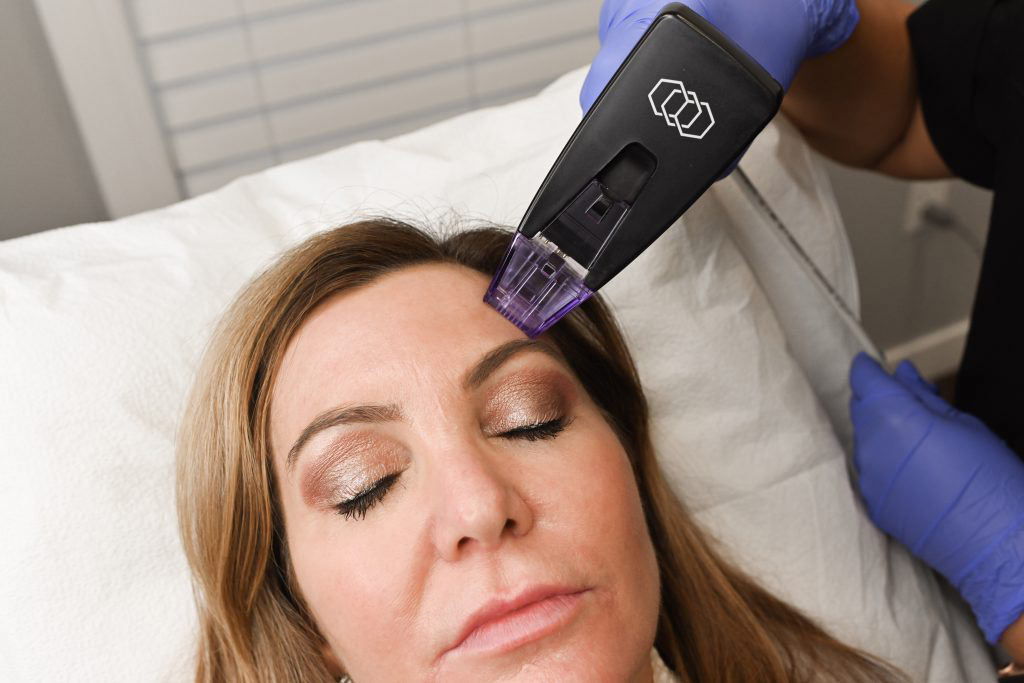 It's likely that while determining which treatment is ideal for you, you're comparing the two most common options to see which one would be the greatest for your skin type and the outcomes that you're hoping for.
Morpheus8 stimulates collagen and elastin synthesis, tightens fibers, and contours fat by combining two scientifically established treatments: microneedling and minimally invasive radiofrequency therapy. Ordinary microneedling can only penetrate the skin to a depth of 1.5 to 2 millimeters, while the Morpheus8 is customized to each patient's requirements, with depths ranging from 0.5 to 8 millimeters. This enables for fat sculpting at deeper depths while skin regeneration is targeted at lower levels. From fragile tissue around the eyes to thicker skin around the neck and jawline, Morpheus8 can treat the whole face and neck in a single session. This advanced treatment will leave your skin firm and radiant, as well as giving you that youthful glow that you've been longing for.
What To Expect After Your Treatment
Since Morpheus8 is a non-invasive technique, there is minimal downtime or recovery time required. Your skin may feel warmer or tighter than normal after your treatment, and you will appear and feel like you have a mild sunburn. Avoid exercising or heavy activity for 24 hours after the treatment to help the healing process, and do not wear makeup until 48 hours after the service. It's also important to reapply sunscreen as needed throughout this period and stay out of direct sunshine. The nicest aspect about this treatment is that you may go back to work or your normal activities right after your treatment.
Who Is A Morpheus8 RF Candidate?
Most healthy men and women who want to minimize indications of aging without getting a surgical procedure may benefit from Morpheus8 RF treatments. It's also appropriate for all skin types, including dry, normal, oily, and sensitive skin.
Neck and chin fullness, rough skin texture, big pores, acne scars, stretch marks, fine lines, wrinkles, and loose skin are all common issues that Morpheus8 RF may help with. In general, a person must be in excellent overall health to be eligible for Morpheus8 therapy.
How Soon Do The Results Of A Morpheus8 RF Treatment Become Visible?
While each patient's skin is different, Morpheus8 benefits may be noticed in as little as three days, with the best results occurring after one month. Because collagen takes up to 6 months to completely develop, you may notice results months after treatment. Dermatologists suggest three treatments spaced four to six weeks apart for optimal results, while there is no limit to how many sessions you may have. The effects of skin tightening might last anywhere from 2 to 5 years on average.
Are The Results Long-Term?
The effects of Morpheus8 are permanent, but you'll need to get your skin treated every 1 to 2 years to maintain them. Patients often wish to return in 12 months for a maintenance treatment to prolong their youthful glow. Because collagen and elastin fibers decrease and loosen as we age, our skin loses elasticity and becomes more prone to wrinkles and drooping. Therefore, annual maintenance treatments are essential to ensure that collagen production is maintained and that no skin irregularities develop.
In recent years, Morpheus8 RF microneedling has quickly grown to become one of the most popular treatments among both men and women seeking a full face and body rejuvenation without the need for invasive surgery. Individuals may take full advantage of this treatment with little to no downtime and be back on their feet in no time. Thanks to its endless benefits, this therapy will continue to be one of the finest on the market!